It was bound to happen eventually. Being surrounded by big brothers who pretty much live in trainers and sports shoes of different kinds, little miss A has decided that she wants some trainers. Actually, she wants pink sparkly trainers. I have blogged a lot about A and
her obsession
with all things pink and sparkly and it seems that up until recently, we have got off quite lightly where shoes are concerned. I did buy her a pair of pink snow boots and they have been amazing over the winter, but all other foot wear has generally been quite sensible.
There are lots of sites on the internet that give you good advice about buying shoes for babies and young children . I particularly liked this
article
about buying the best shoes for toddlers as the advice is very clear.
So in order for her to do what she calls 'running sports', she needs some trainers. My husband grumbled about 'another pair of shoes?', but children's feet grow at such a rapid pace, it is important to get their feet measured and checked regularly which inevitably means buying more shoes at this stage anyway, so I think she is due a new pair of shoes. Like most children of her age, she is very active and loves running around, scooting and cycling outside, so I have been on the hunt for some footwear that she might deem as suitable.
I decided to take a look at
Banks Fashion
to see what they had to offer in the way of children's shoes and almost immediately, I could see several pairs that my little girl would adore. These Vans Toddler Tory Hello Kitty would definitely appeal and shoes made of canvas are great for little feet, especially as the weather gets warmer as the material allows the feet to breathe and it is also really flexible.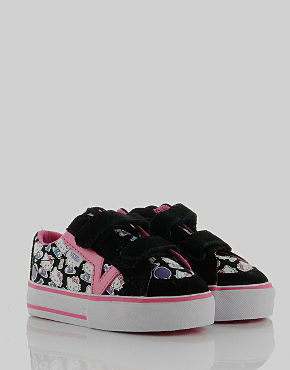 Next on my list would be these Converse Infants All Star Hi Tops, which I think are adorable. I had my first pair of Converse as a teenager and I loved them, so I could quite happily go for a pair of these myself in a much bigger size though.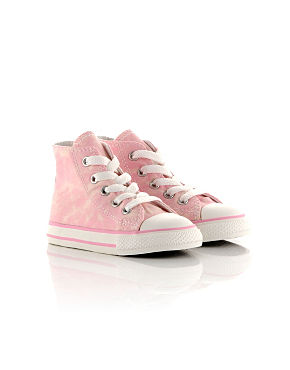 Finally, I have to admit that these would be the ones that A would choose as they pretty much tick all of her boxes. She does love purple almost as much as pink and these Converse Infant All Star High Tops have a layer of purple glitter on them which would probably mean that she would never take them off. Ever.
Which ones would you choose?
This is a sponsored post.